Diving enthusiasts around the world know that Palau is a must-visit destination, thanks to its breathtaking marine life and crystal clear waters. But what many may not know is that two visionary entrepreneurs, Navot and Tova Bornovski, have been instrumental in making Palau a diving mecca. With their extensive knowledge of the region, they founded Fish 'n Fins, Ocean Hunter and affiliated companies, providing unparalleled diving experiences to visitors from across the globe.
Navot and Tova Bornovski are true pioneers in the diving industry, with a wealth of experience and knowledge that they have gained over many years spent exploring the waters around Palau. Tova, in particular, is a trailblazer and a true inspiration to many, having been inducted into the Women Divers Hall of Fame in recognition of her outstanding achievements in the field.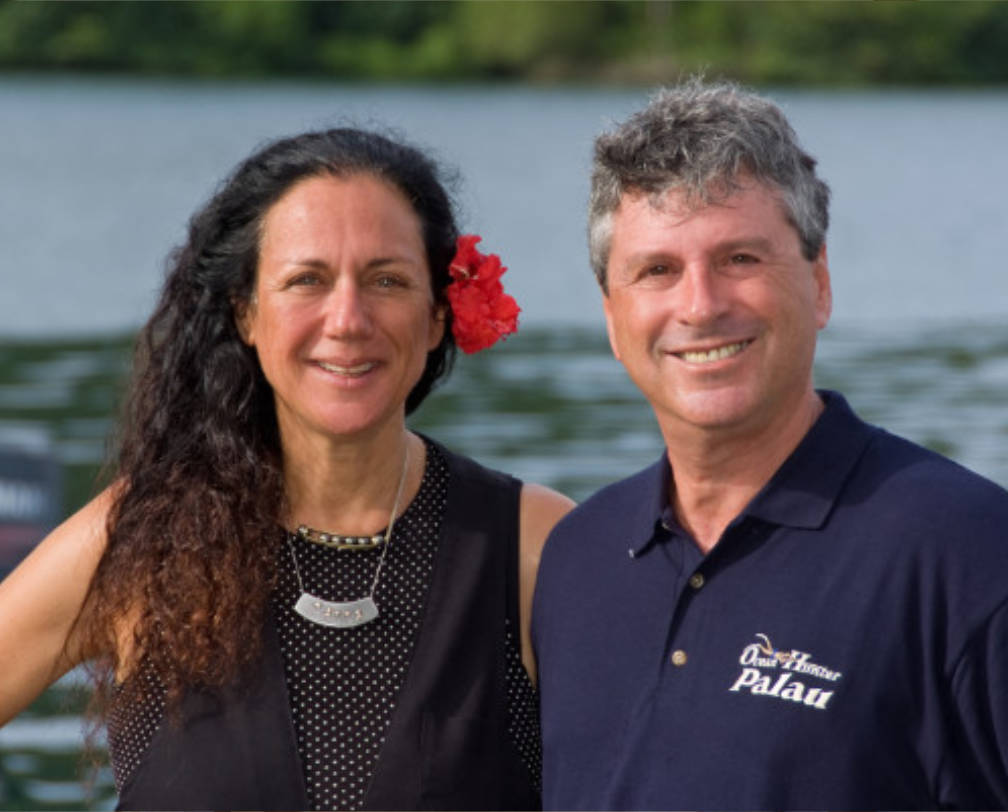 Around 2013, the Bornovskis decided to share their expertise with the wider world by writing a book that would serve as a guide to the best diving and snorkeling sites in Palau. The Palau Diving & Snorkeling Guide quickly became a must-have for any diving enthusiast planning a trip to Palau. The book was praised for its detailed descriptions of the region's underwater flora and fauna, as well as for its practical advice how to approach the sites.
Now, in 2023, Tova Bornovski has decided to release a new edition of the Palau Diving & Snorkeling Guide, which will be available in the second half of the year. This edition will be the last one to be printed on paper, as there is an increasing demand for electronic books. However, Fish 'n Fins recognizes that many of their customers still appreciate the tactile experience of holding a book in their hands, so the complete book will be available in both paper and electronic forms until the end of 2023.
For those who have not yet had the opportunity to visit Palau, the Palau Diving & Snorkeling Guide offers a tantalizing glimpse of what awaits them. For those who have already had the pleasure of diving in Palau with Fish 'n Fins, the book provides a wonderful way to relive those unforgettable experiences.
The book's detailed descriptions of Palau's dive sites will transport readers to a world of vibrant coral reefs, schools of colorful fish, and fascinating marine creatures. From the famous Blue Corner and German Channel to the lesser-known but equally stunning dive sites, the Palau Diving & Snorkeling Guide provides an in-depth look at each site, including tips on the best times to visit and what to look out for.
In conclusion, the Palau Diving & Snorkeling Guide is a must-have for anyone planning a trip to Palau or simply interested in the region's underwater wonders. It is a testament to the Bornovskis' tireless efforts to promote Palau as a premier diving destination and to their commitment to preserving the region's unique ecosystem. Whether you choose to read it on paper or on your electronic device, the Palau Diving & Snorkeling Guide is sure to inspire and inform, and we hope it will help you to imagine or relive the incredible diving experiences that await you in Palau with Fish 'n Fins.